OK I realize that this whole thread is not going to give Steve the warm fuzzies about rural living in the Eastern US woods, but I have to ask anyway because pretty much any time I've had a weird issue like this, someone here has the answer!
Some critter appears to be eating my house. This is a new one on me, and apparently on google too, because I've searched and can't really find anything quite like this.
We have wood trim around our front door. Something is gnawing it away. Not termites - it's at ground level, right at say groundhog or beaver or bunny or possibly squirrel height. I noticed it maybe a month ago - it wasn't bad then, so I sprayed some bitter apple on it and hoped for the best. They have now branched out to 3 separate areas and have done a number on the spot they originally started....It's probably still at the point where I can sand it, paint over it, and call it character but if it gets much worse, I'll need to replace the whole trim piece. So I need to figure out what is doing this and how to stop it ASAP!
So we live about a half mile from a creek - I wouldn't think beavers would go so far. My guess is groundhogs because we have like a zillion of them. But we've had them for years and they've never done anything like this. Possibly squirrels - I've seen more squirrels this year than I ever have -- I think typically the hawks keep the squirrel population down around here.
Any other guesses? And any thoughts on how to stop it? (Aluminum foil? rat poison (ugh!)? I could try wire fencing off the whole front porch since we don't use that door anyway?)
Here's some photos (ignore the awful paint on the door threshhold, as I'm currently prepping it for repainting.)
This is the area where they started and have kept going: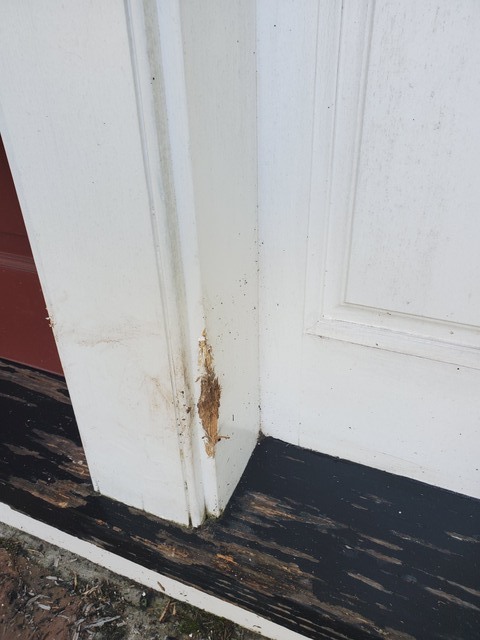 Here are two other spot where they've apparently been sampling from the buffet: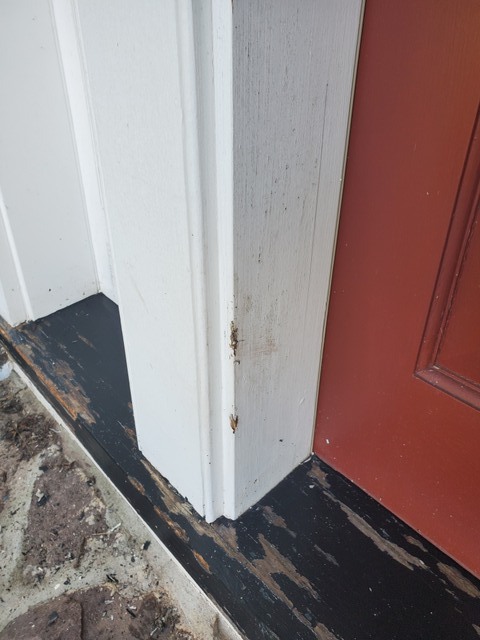 And here's the whole door area for context. They are chewing on the wood trim pieces to the left and right of the door, between the door and the sidelights.