I don't know how much the PA Senate Race is making the national news or how many of you are familiar with our candidates.
On the Republican side, we have Mehmet Oz, TV doctor, cardiologist, snake-oil salesman and longtime NJ resident who registered to vote using his in-laws' address in PA so he could run for senate here. He is a practicing Muslim, which the Republicans oddly don't seem to have any issue with in spite of their incessant harping about Obama and Ilhan Omar. He also has dual citizenship with Turkey, owns several homes there, and has voted consistently in their elections....can you imagine the pearl clutching on Fox News if the Dems ever ran a candidate like that???? Oz's wife's family has serious money and is in bed with pharmaceutical companies. And everything about him just gives off "smarmy used-car salesman" vibes.
On the Democrat side, we have John Fetterman, current Lieutenant Governor, former mayor of a hardscrabble coal town in western PA, huge build, bald, lots of tattoos, looks like someone you would not want to run into in a dark alley but has a masters degree from Harvard. Married to an immigrant from Brazil, sends fundraising texts from his dog. He and his wife seem like genuinely nice people who would give you the shirts off their backs (there are lots of stories of them doing so when he was mayor). Makes you wonder what he's doing in politics. He does have one skeleton in his past - as mayor, he pursued an unarmed black jogger and held him at gunpoint thinking he was a suspect in a series of robberies, but he has apologized repeatedly (and sadly, there's a good portion of PA voters who probably think there's nothing wrong with doing that.)
Anyhow, this Senate race has been the most entertaining thing I have seen in a long time. Fetterman has long been known for his take-no-prisoners snark (see here:
https://www.cbsnews.com/pittsb...t-texas-lt-governor/
) and he has stepped it up like 1 million percent during this campaign.
He has been relentless in hammering at Oz's "fake" PA residency. He points out that he's filming his PA senate commercials in his NJ mansion.
When Oz was on vacation in NJ last week, Fetterman's campaign flew banner planes over the beaches welcoming him back home.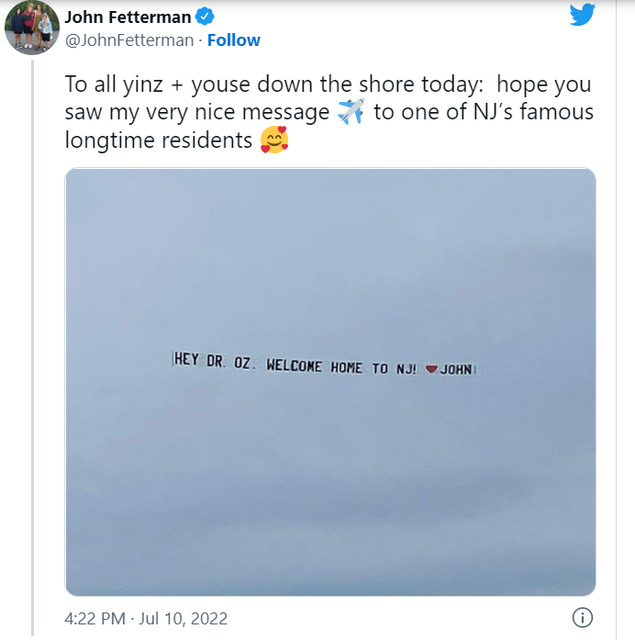 He even got Snooki, NJ's most famous washed-up reality TV star, to record
a special message just for Oz
.
Today Oz attempted to make himself look like a working class Philadelphian -- not only did it backfire massively (the two cheesesteak places he mentions are widely known as tourist traps and he is a cardiologist AND a vegetarian so it just seems especially smarmy for him to be pimping cheesesteaks) but Fetterman was RIGHT ON IT.
Oz tries to fire back, but the best he can do is make sad little jabs about Fetterman's health issues (he had a stroke shortly before the primary and has been recovering since) which seems especially cruel coming from a cardiologist.
Anyway, if you all are seeing this in national coverage, I won't bore you with updates, but if not, I'll try to keep posting the barbs as they fly as I think this race is shaping up to be the most entertaining thing to come out of PA politics in a LONG time.