This week's haul: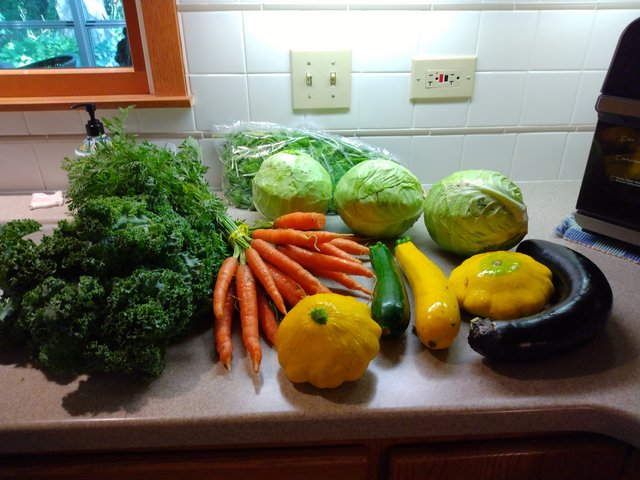 Cabbages, kale, yellow summer squash, patty pan squash, zucchini, carrots, arugula, eggplant. We asked for lots of cabbages because we LOVE cabbages.

Will head for the farmers market tomorrow to buy
tahini so I can make
this
carrot recipe.
Tons of tomatoes and peppers in my own garden. Some cukes but they aren't going gangbusters.
And I harvested my first potatoes. The plants were dying back so I figured there might be something down in the dirt. I have potatoes from tennis ball size down to marbles. This is the Red Gold variety, a red-skinned potato with yellow flesh. I have maybe four pounds that came out of the first bucket I planted.
They're currently drying out in the basement and will find their way into a meal or two this weekend. Can't wait!

--------------------------------
We are all visitors to this time, this place. We are just passing through. Our purpose here is to observe, to learn, to grow, to love… and then we return home. - Australian Aboriginal proverb

Bazootiehead-in-training