We've been dogless since October when we lost Maggie; first time in 40 years there have only been humans in the house. Between winter and cracking up my knee in December, we weren't in a rush for any new canine companions.
A month or so ago we started casually looking around on petfinder to see if there were was anybody who looked interesting. Went to see a four month old small lab mix at a nearby shelter, but we had also spotted Raffi online and decided he needed our help more than puppy did.
Raff is a 14 year old pup who found himself in need of a place to land in his senior years. He was surrendered to a shelter that has relationships with various rescues that foster dogs, so he wasn't in the shelter for very long.
Poor guy, he had been with his original family for his entire life. Story is (and you never know if it's true) that the family moved to an apartment that doesn't allow dogs. No judgments here; they might have been in financial distress and had to go where they could afford to. At least they took him to a good shelter instead of dumping him on the street somewhere.
His foster parents, who had him for about a month, said he's a pretty chill doggy who doesn't seek attention and is just happy to be near whoever is home.
He has arthritis that I think bothers him quite a bit so doesn't move very fast, but he does still like to take walks. He is a bit sensitive to being touched in some areas and can get a little grumpy. We'll be working with our vet to see what we can do to help on the pain front.
He's pretty old even for a smaller breed dog, so we have no idea how long we'll have him. He seems to have settled in pretty well in just a day at the wtg Home For Seniors. We'll just give him a comfy place to land in peace and quiet for the rest of his senior years.
Meet Raffi: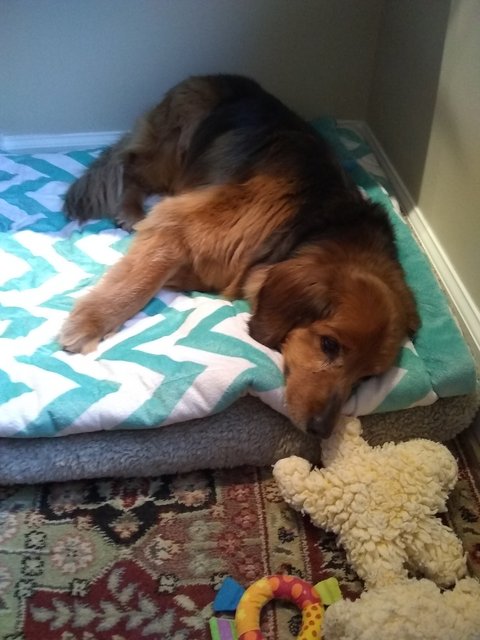 --------------------------------
Outrage is warranted. But outrage unaccompanied by analysis is a danger in itself.

Bazootiehead-in-training