Weird spring here, cold and wet. Gardener's worst nightmare because you can't work the soil.
Got my first batch of bareroot alpine-ish strawberries a couple of days ago.
Mara des Bois strawberries
I decided to plant them in some hanging pots I had hanging around. The plants are kinda tender (they started sprouting tiny leaves that are all white because they were packed in boxes and being shipped - no way to make chlorophyll).
Nighttime temps have been around or slightly below freezing, so I'm carrying in the potted strawberries to protect them for a while. Here they are in the screen room, getting a little daylight and not too much cold; I know, looks like a bunch of pots with dirt in them....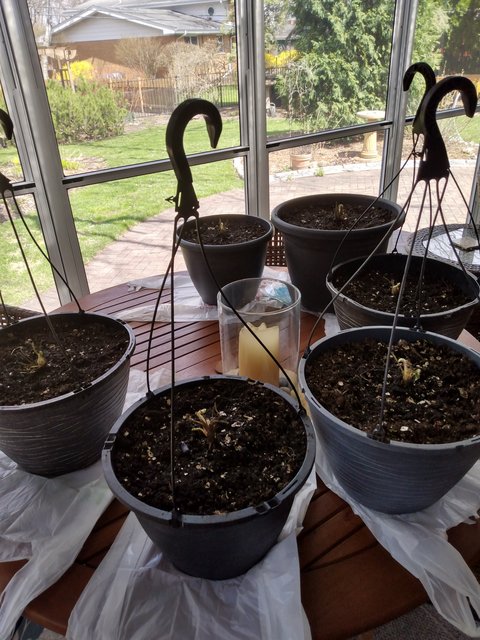 Waiting for another batch of alpine strawberries, black currants, red gooseberries, and jostaberries to arrive. Will pick up tomato and pepper plants in mid-May around the same time I plant the cucumber and bean seeds.
Reading up on how to grow potatoes. Doing them in pots.
Finished sifting one side of the composter (thank you, Mr wtg!) and starting to work on the other. Starting some regrading work since we haven't had rain for a few days and I can actually dig a little. New raised bed is leveled; I'll fill it with soil I'm taking away from the regrading at the edge of the lot.
Slow start but things are rollin'!

--------------------------------
We are all visitors to this time, this place. We are just passing through. Our purpose here is to observe, to learn, to grow, to love… and then we return home. - Australian Aboriginal proverb

Bazootiehead-in-training