well-temperedforum.groupee.net
The Scourge of White Appliances
29 November 2018, 11:51 PM
RealPlayer
The Scourge of White Appliances
Y'all's interiors put me to shame. Best not come over here!


--------------------------------
"Learn to milk whatever success you've had. You can keep doing the same thing over and over as long as you have a sense of humor about not having a new idea." -- John Waters
30 November 2018, 08:19 AM
Piano*Dad
quote:

I think my problem is that I am partial to wooden cabinets in general. And I also like color. A backsplash is the eyes of the kitchen, so white subway tile doesn't excite me.
Ditto for us. Yet we painted over our pickled ash doors rather than strip and re-stain, and over putting in all new cabinets. The expense of keeping a wood grain look was just too great. Since we were going with a patterned tile and an eye-catching backsplash, we thought the painted cabinets actually would fit the scheme much better than stained wood with all of its intricacies and swirls. Because we weren't replacing the cabinetry or doing hideously labor intensive things to it (we thought of putting black painted edging on the inserts in the wood paneled doors) the job came in "on time and under budget" as they say. Way under budget! No complaints. I suspect this kitchen remodel will pay for itself completely in higher resale and quicker time to sale.
30 November 2018, 08:21 AM
Piano*Dad
Oh, and I'm really enjoying the deeper sinks and no-hands faucet we put in. I realize that's another part to break, and some people don't like that gadget, but I find it very helpful while doing dishes. And I'll save water.
30 November 2018, 09:48 AM
ShiroKuro
Mr. SK wants to know why all American kitchen sinks have two basins instead of one big basin. He is adamant that when we move, we swap out the regular sink for the large, single basin sink, maybe like this one
https://mobileimages.lowes.com...679/812679018930.jpg
30 November 2018, 09:59 AM
Piano*Dad
My Santa Fe home has one very big sink. I think it's just preference. I can obviously live with either approach.
With two sinks, one is for washing hand-washed items and the other has the disposal and can be used for rinsing and drying.
30 November 2018, 10:05 AM
Mary Anna
I was taught to put suds in one basin for washing and to put clear water in the other for rinsing. The basins obviously has to be emptied and refilled if you're washing a lot of dishes, but I think this is the way it was done before running water and my dishwashing forbears retained the method as a water-saving measure.
We only have one basin in this house. I find it inconvenient, but I had already shifted to rinsing under running water so it works okay.
And also, Quirt is the resident dishwashing czar, so I cannot complain about the setup.
30 November 2018, 10:05 AM
Piano*Dad
For comparison, here is the kitchen in the "western" house. No white appliances here (just to get back near topic ...

).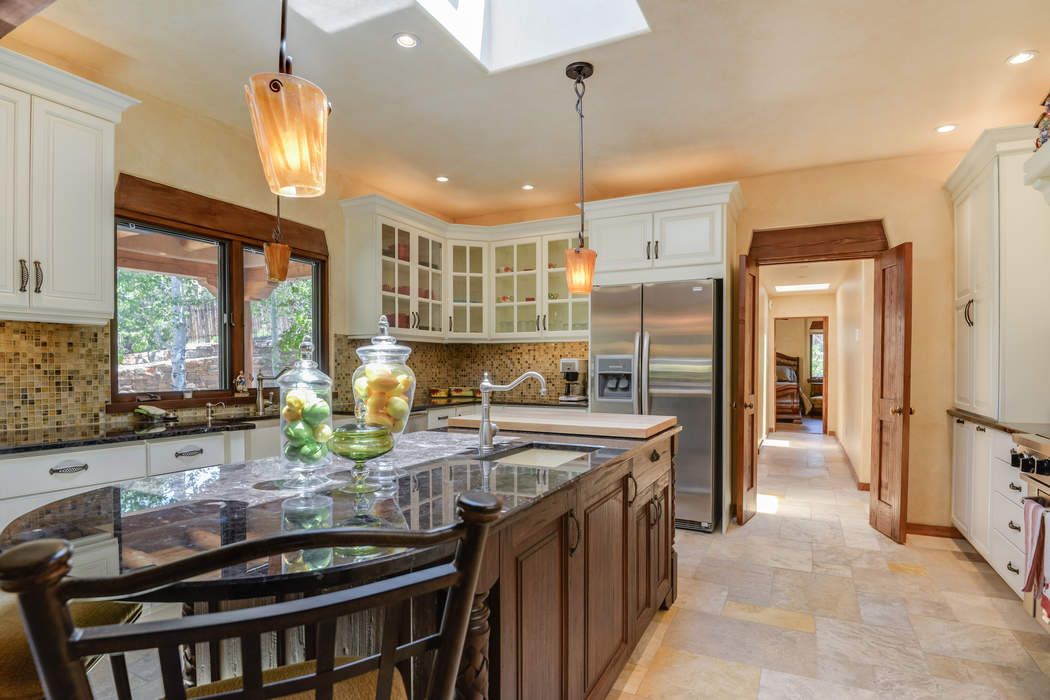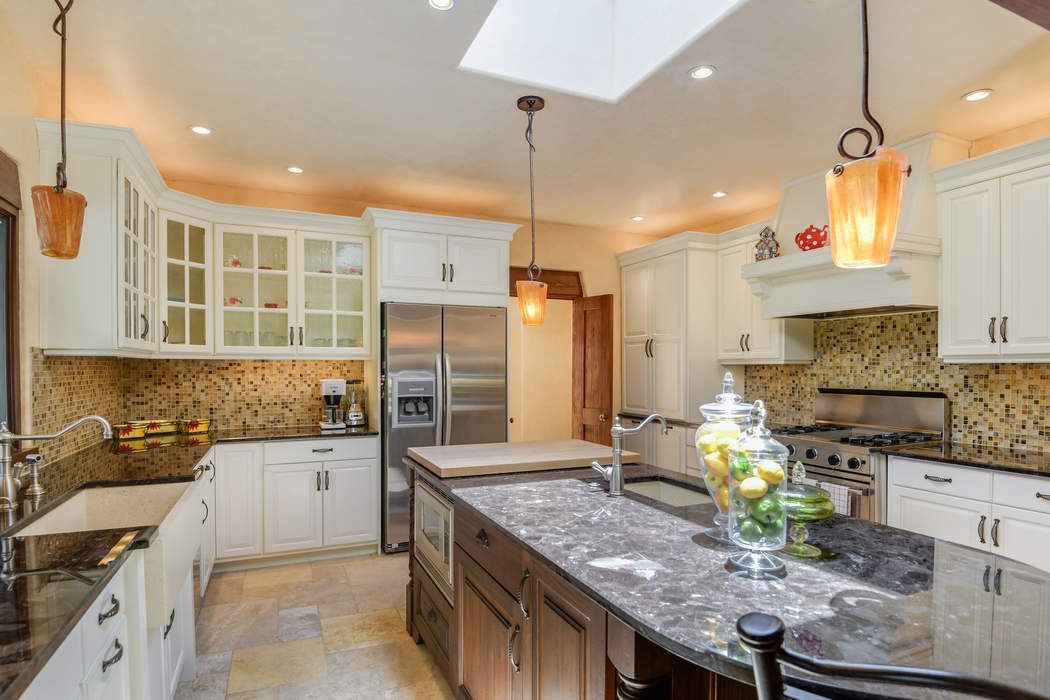 In the second picture, you can see the single large main sink. We also have a second sink in the island. Useful for entertaining.
This kitchen has white cabinets on the kitchen walls and wood cabinets on the island. To some extent, we mimicked parts of this kitchen in our remake of the Virginia kitchen. Bold backsplash, for instance, a tiled floor in browns, and a mixing of browns with white/black.
30 November 2018, 12:50 PM
Nina
I find the double sink works well for me, because my cooking "method" frequently requires soaking larger pots and pans
after I pry their charred contents out
as part of cleanup. That way, I can have some items soaking yet still do the hand-washing.
My only real requirement for a sink, though, is that it is large enough to fully contain a 13 x 9 pan. Again with the soaking requirement.

30 November 2018, 08:49 PM
ShiroKuro
Mr. SK is so anti- double basin sinks, I think it's just become a massive pet peeve. I just hope that if he decides to rip out the sink in the new place to replace with a single basin, nothing is damaged in the process.
30 November 2018, 09:35 PM
Axtremus
OK, that's it. Piano*Dad has to host the next WTF get together in his kitchen.
30 November 2018, 11:04 PM
Piano*Dad
Which one?

01 December 2018, 07:33 AM
Axtremus
Does it matter?

Host two get togethers!