04 August 2022, 06:55 PM
wtg
Fiona has a sister!
quote:

The day we've all been waiting for is finally here; Fiona officially is a big sister.

Wednesday night around 10 p.m. Bibi gave birth to a healthy full-term hippo baby, the zoo said in a press release. The newborn's sex has not yet been released.

Zoo officials said the new baby looks huge compared to its first baby hippo star, Fiona.

"Fiona only weighed 29 pounds when she was born six weeks premature and wasn't able to stand on her own," said Christina Gorsuch, director of animal care at the Cincinnati Zoo.

"Bibi and the baby, yet to be named, will spend the next two weeks bonding behind the scenes," said Gorsuch. "A female would take her newborn away from the bloat for about that amount of time in the wild, and we try to give Bibi the choice to do what feels natural to her."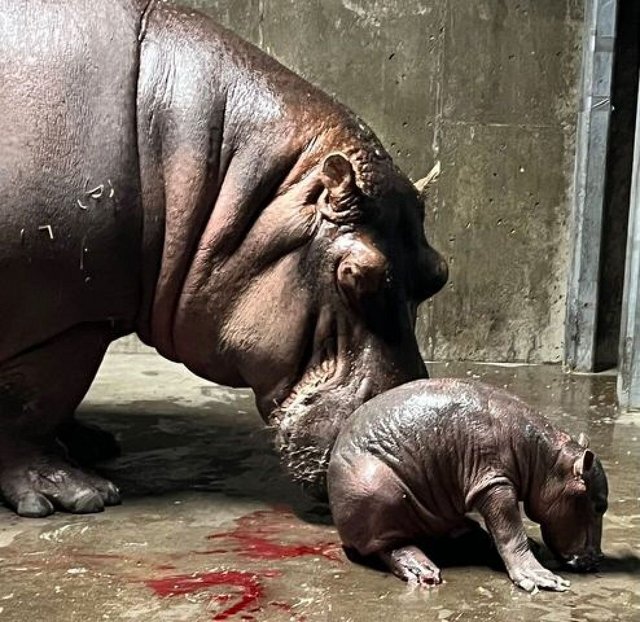 https://www.wcpo.com/news/loca...-to-healthy-new-baby
04 August 2022, 10:33 PM
Nina
Congratulations to the happy mama! What's also super cool is that Fiona was born in the Cincinnati Zoo, and has now survived to breed and successfully produce a baby. Let's hope her maternal skills are intact. Captive breeding is touchy, this is a huge win.
05 August 2022, 05:27 PM
wtg
Uma, a hippo at the San Antonio Zoo, crushes it..
https://www.yahoo.com/entertai...ushes-083818555.html
05 August 2022, 06:29 PM
Nina
I see your hippo and raise it
multiple elephants with pumpkins