well-temperedforum.groupee.net
Hoarder House
07 June 2020, 12:42 PM
Steve Miller
Hoarder House
For the last several weeks I have been cleaning out a hoarder house. The process has been somewhat disturbing, but interesting at the same time.
Here's what we started with 3000 SF of mid century modern, filled with "stuff" to the 4' level. There was a little path in the trash where she would move through the three rooms that were still accessible.

--------------------------------
Life is short. Play with your dog.

07 June 2020, 12:44 PM
Steve Miller

--------------------------------
Life is short. Play with your dog.

07 June 2020, 12:52 PM
Doug
What I notice is that the secretary desk/china hutch combination in the second photo is identical to what I have in my house, inherited from my grandmother.
We are going to pretend that's the only similarity I see…
07 June 2020, 12:55 PM
Steve Miller
As we started to remove the trash (100 cubic yards to date) we could see that this was a very nice house at one time. Lots of artwork of varying degrees of quality, iconic mid century furniture, cool architectural details. Most everything had been covered with trash for thirty years and was in pretty good shape.
Here is the house partway through:

--------------------------------
Life is short. Play with your dog.

07 June 2020, 01:02 PM
jon-nyc
But did it bring her joy?

--------------------------------
If you think looting is bad wait until I tell you about civil forfeiture.
07 June 2020, 01:03 PM
Steve Miller
As soon as we had enough stuff out of the way I had the carpet removed in the family room and the hall to help get rid of the smell. It helped, but I think this house is going to have to be treated like one where there has been in a fire. Every surface in the house is going to have to be washed down and sealed before painting, and that includes the wooden floors.
Here's what we found under the family room carpet - likely original to the house. The tiles look like wood but probably aren't. It's a shame they ruined the tiles when the carpet was installed - I think they're pretty cool:
There is a built in planter on top of the shelves one the right in the picture. It's lined in copper - very cool. The paintings are by a guy named Anton Gutknecht and appear to have some value. There are also several paintings by a Julian Ritter (clowns, unfortunately - his nudes sell for quite a bit more), and a bunch more we have not gotten to yet.

--------------------------------
Life is short. Play with your dog.

07 June 2020, 01:21 PM
Steve Miller
quote:

Originally posted by jon-nyc:
But did it bring her joy?
Surprisingly enough, it did. She loved every bit of trash in that house and refused to part with any of it. A surprising amount of it was junk mail. She donated to various Republicans and TV preachers and got some 20 pieces of mail a day asking for money.
Her hoarding was somewhat systematic, including a sort of filing system involving plastic bins. She'd put things that were somewhat related in a bin and then put another bin on top of it with similar things.
We had to go through every bin because she hadn't paid income tax in 10 years and it all needs to be sorted out to close probate.
Sometimes the relationship between the things put in each bin was not readily apparent, but I got a chuckle out of this one:

--------------------------------
Life is short. Play with your dog.

OMG! And she passed away leaving it to....

--------------------------------
The earth laughs in flowers
07 June 2020, 01:32 PM
pianojuggler
It's like a contemporary archeological dig.
I just want to say two things:
1) My garage and storage room are piled to the ceiling. Three decades of people moving in and out and leaving stuff behind, and then acquiring boxes of things when my mother died has left me with quite a volume of stuff. But it's not quite this bad. I plan to sift it all down after I retire.
2) That's a really beautiful fireplace.

--------------------------------
pj, citizen-poster, unless specifically noted otherwise.

mod-in-training.

pj@ermosworld∙com

When a door closes, a can of worms opens.
07 June 2020, 01:33 PM
ShiroKuro
Wow, that's quite a job!
My first year in Japan, an American that I was friendly with who lived in a near by town had a mental breakdown, and after a few months of horrifying struggle, her family was able to come and take her back to America.
But she left her apt. a huge mess, so me and another gal (in a different nearby town) agreed to go through everything and save anything that seemed important or reusable and throw out everything else.
Bc this involved acute mental illness, I suspect it was different in many ways from what you're seeing, but we found the experience profoundly disturbing. It was like you could the illness in the objects in the apartment... We were both quite shaken by the experience.
(I think that was also the first "crisis translation" I did, and it seemed to develop a reputation such that after that, I was always called upon when there was a problem and bilingual skills were needed...)
Sorry, bit of thread drift.
07 June 2020, 01:38 PM
pianojuggler
Oh, and I think we had those same dining room chairs in the 70s. The parents of a family friend had a Scandinavian furniture and décor business that they closed. We got a bunch of floor pieces and stuff for dirt cheap. I love "Danish Modern".

--------------------------------
pj, citizen-poster, unless specifically noted otherwise.

mod-in-training.

pj@ermosworld∙com

When a door closes, a can of worms opens.
07 June 2020, 01:44 PM
wtg
I noticed those chairs, too. We left our Danish Modern set behind in the vacation home: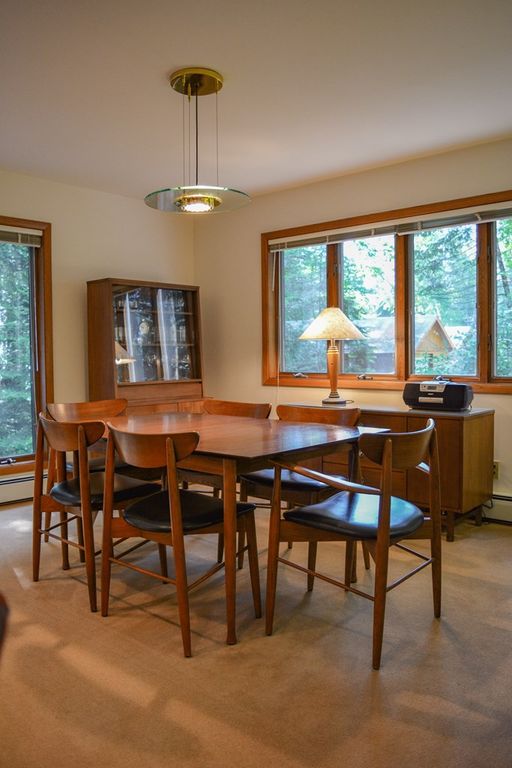 We bought the set from our neighbors here in Arlington Heights when they were moving to New Mexico; it worked out perfectly in our vacation place.
It was solid walnut and it came with a buffet, hutch, and custom table pads. We paid $200 for everything.
I loved that set except for one thing. It was a rectangular table with really sharp corners. I always ended up with black and blue marks on my legs from bumping into them....

--------------------------------
Outrage is warranted. But outrage unaccompanied by analysis is a danger in itself.

Bazootiehead-in-training




07 June 2020, 02:22 PM
ShiroKuro
My mom has those chairs too!
07 June 2020, 03:19 PM
Steve Miller
The furniture. There is surprising little of it, most rooms being filled with "stuff" before they were ever furnished. What there is though, is kind of interesting.
Suddenly, it's 1962!
We have an offer on this display piece and everything on it. I like the idea because It means I don't have to wash everything and I don't have to move it. I had an appraiser friend of mine come through and pick out the hand blown pieces, the rest of it is dimestore stuff.
This is one of the better pieces in the house, made by Lane. The blue glass is mostly Fenton:
This bedroom furniture came from an unfinished furniture store. Do those exist anymore? The table is also Lane.
More unfinished furniture. The ceramic lamps (and there are many of them) are mostly Marbro and collectors like them.
There is a larger version of this lamp in the garage. It's not marked. My parents had lamps that were very similar.
Twin bed head and footboards. Haven't found a maker
Heywood Wakefield, older than the other pieces in the house:

--------------------------------
Life is short. Play with your dog.

07 June 2020, 03:37 PM
ShiroKuro
Wow! It's so cool to see all the pieces. But I can imagine that trying to figure out what to do with them is a a bit of a headache!