So in addition to the pandemic and murder hornet joy of 2020, in the past month, I have had my refrigerator break twice, my father-in-law pass away suddenly, and yesterday I totaled my minivan in a freak accident.
We had been really good about quarantining, but my son's 16th bday fell the day after his grandfather passed so we basically did nothing to celebrate. He really really wanted this very specific guitar and I found one for sale in CT - the guy agreed to meet us at a gas station in New Jersey and we were all set to do the transaction in a quarantine-approved way (both of us drive straight there, meet outside, stay 6 feet apart, wear masks and gloves, etc.) I was willing to bend the rules a bit to give my son some semblance of something pleasant to remember his birthday by. And yesterday was the first truly nice springlike day we've had this year, so my son and I were enjoying the drive.
Apparently Karma does not approve of breaking quarantine. We were driving down I 78 and a freaking semi-truck gas/fuel tank fell off an 18 wheeler and landed in front of my car - I never saw it coming or realized it was there until the guy in front of me swerved and he never even hit his brakes so I don't think he saw it coming either. I tried to swerve but didn't quite make it. We aren't hurt and the damage to the front end of the van is minimal but the airbags went off so I suspect the van is done for (>100K miles so probably not worth fixing). The whole thing shut down the interstate for like 2 hours- gasoline was everywhere. The trucker whose fuel tank it was says he was sideswiped by a pickup truck and it knocked his tank loose and drove off without stopping. Mr. Lisa is skeptical that a pickup could bump a semi hard enough to knock the fuel tank off and still be able to drive off so I think he thinks the trucker is lying but who knows - he seemed like a nice guy. Anyhow, apparently,after I hit the tank, I knocked it into the lane next to me and another trucker hit it so my insurance is telling me that that guy could try to come after me. What a mess. Anyhow, I think I'll be not leaving the house again like ever.
On the other hand, I did hit a 125 gallon metal tank full of gasoline at like 60mph so I guess it could have been so much worse.
This is the truck and its one remaining fuel tank. Seems like a tank like this should be held on with more than just a couple straps???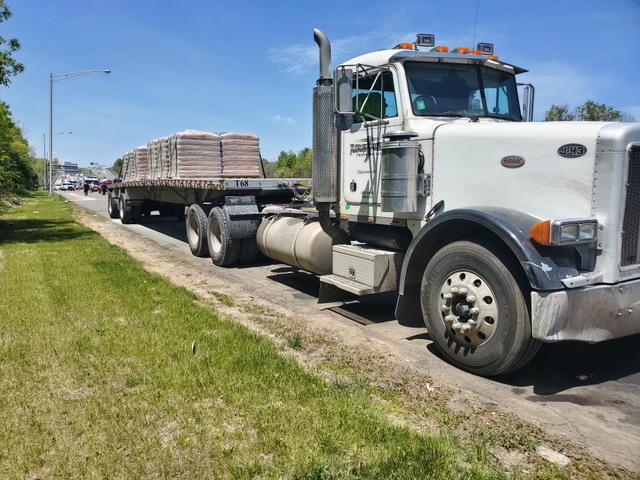 Some more photos: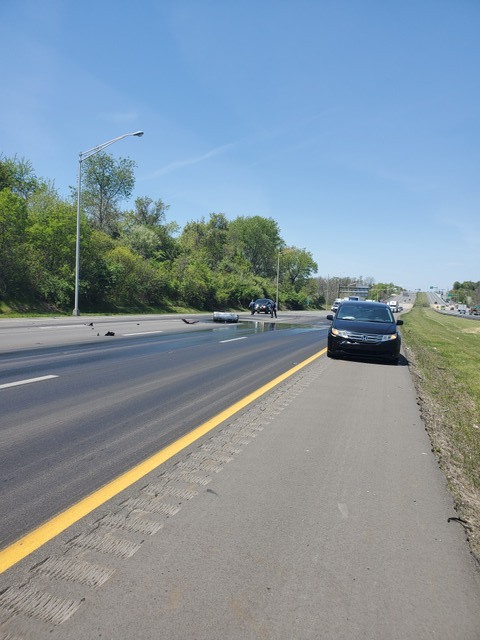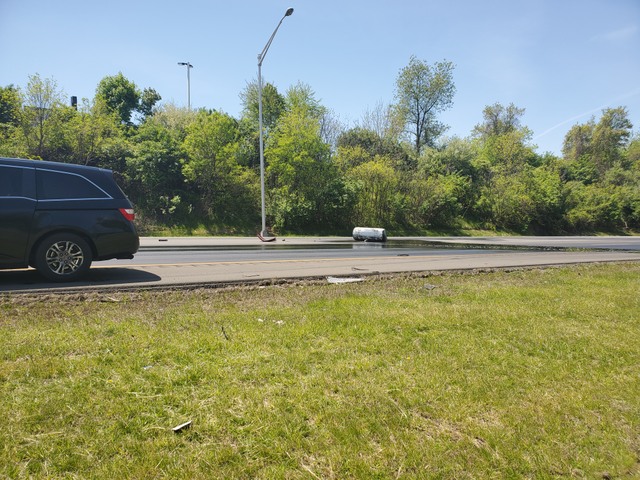 The only damage to my car other than the airbags deploying. I was able to start it up and drive it to the other side of the road (they wanted me farther away from the gasoline that was leaking all over the place.)