well-temperedforum.groupee.net
Inflation around the world
21 June 2022, 05:31 PM
wtg
Inflation around the world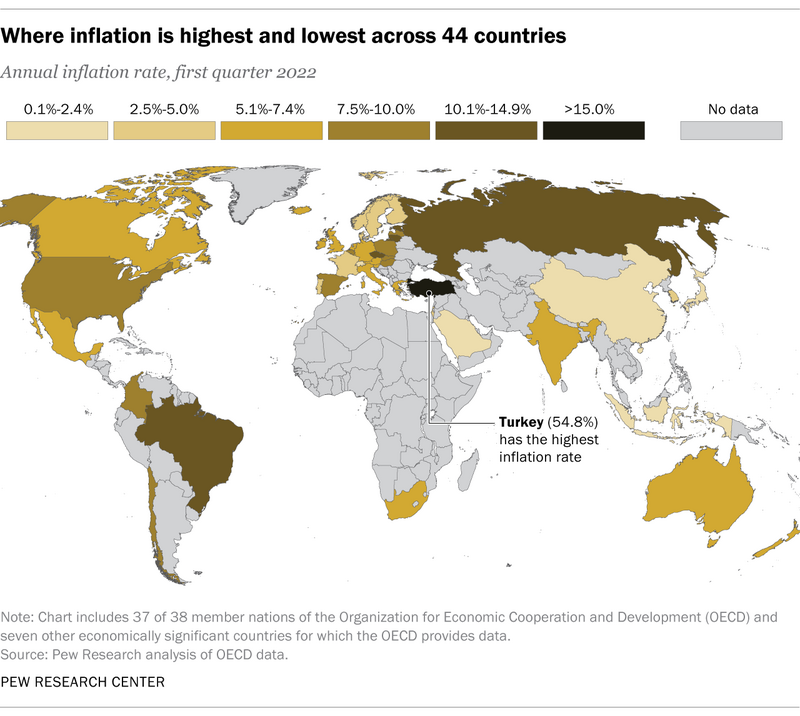 https://www.pewresearch.org/fa...-and-getting-higher/

--------------------------------
We are all visitors to this time, this place. We are just passing through. Our purpose here is to observe, to learn, to grow, to love… and then we return home. - Australian Aboriginal proverb

Bazootiehead-in-training




21 June 2022, 05:36 PM
Piano*Dad
Clearly this is all the Biden administration's fault ...
04 August 2022, 06:10 PM
wtg
quote:

The Bank of England has warned the UK will fall into recession as it raised interest rates by the most in 27 years.

The economy is forecast to shrink in the last three months of this year and keep shrinking until the end of 2023.

Interest rates rose to 1.75% as the Bank battles to stem soaring prices, with inflation now set to hit over 13%.

Governor Andrew Bailey said he knew the cost of living squeeze was difficult but if it didn't raise interest rates it would get "even worse".

The main reason for high inflation and low growth is soaring energy bills. driven by Russia's invasion of Ukraine.

A typical household will be paying almost £300 a month for their energy by October, the Bank warned.
https://www.bbc.com/news/business-62405037

--------------------------------
We are all visitors to this time, this place. We are just passing through. Our purpose here is to observe, to learn, to grow, to love… and then we return home. - Australian Aboriginal proverb

Bazootiehead-in-training




26 August 2022, 08:53 AM
wtg
quote:

Britain to see 80% spike in energy bills as crisis deepens
https://apnews.com/article/inf...e5cfeac3ea8e1db0f637

--------------------------------
We are all visitors to this time, this place. We are just passing through. Our purpose here is to observe, to learn, to grow, to love… and then we return home. - Australian Aboriginal proverb

Bazootiehead-in-training